Cloud computing involves delivering different services over the Internet. From software and analytics to secure and safe data storage and networking resources, it can deliver everything via the cloud.
You probably use different cloud-based applications every day. You are enjoying cloud solutions every time you send a file to your colleague via the web, use a mobile app, download an image, binge a Netflix show, or play an online video game. All these services are stored in the cloud and exist in some digital space.
Storing your information on OneDrive, SharePoint, or an email server differs from keeping that data on a desktop hard drive or an USB stick. You can access it from just about any computer that has internet access.
For businesses, cloud computing means improved collaboration and productivity, and significant cost reductions. It means better data protection, improved availability, and expanded access to innovative technologies.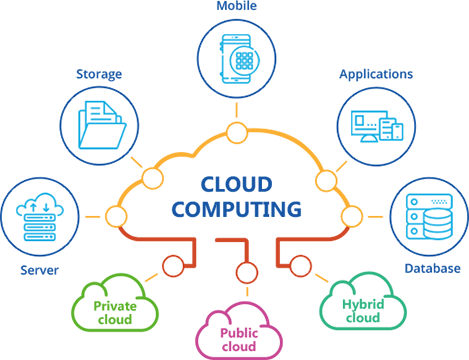 Characteristics of Cloud Computing
On-demand self-service: You can use it whenever you need it and pay per use. Think of it like electricity. The cloud is a form of utility computing. You create an account or pick your provider, and your services will be available to you anytime. You are billed at the end of the month only for what you use. This form of storing and accessing your data gives you full control over your resource usage and spending.
Broad network access: You must be able to access from across the web using any device with internet connectivity. Wherever you are, your cloud data will be accessible through web browsers, and on a laptop or mobile devices. The reason for this is the fact its underlying infrastructure includes servers on multiple locations.
Resource pooling: Multiple tenants can share the same space and resources can be assigned, re-assigned, and distributed as needed. You can be anywhere in the world and still have the equal access as everyone else; provided you have internet access.
Rapid elasticity: Cloud can grow and shrink as much as possible affecting none of its users or their information. For example, if your business is experiencing peak traffic, the cloud can expand to accommodate all the new requests.
Measured service: You can examine how often people are using the cloud. Many cloud service providers use a pay-as-you-go model to ensure that their clients are getting what they pay for, no more and no less. Once again, this can be compared to electricity as you get billed for the amount you use.
Edoors is here to accelerate your career.

We've been providing world-class talent to Fortune & Global 500 clients for 27 years
Benefits of Cloud Computing
1. ALWAYS-ON AVAILABLE STORAGE
Once again, the cloud provides an easy way to hold all your necessary data. You can rent cloud storage at a low price and scale it according to your demands. You no longer have to use an external hard drive or build an in-house data center.
2. DISASTER RECOVERY SOLUTIONS
You need data protection when catastrophe strikes. Preventing as much data loss as possible is critical regarding time, money, and efficiency. Cloud provides a much faster, and cost-effective disaster recovery than traditional solutions could ever offer.
Sometimes, the best way to deal with a tragedy is to prepare for it beforehand. You should always consider any worst-case scenarios since most catastrophic events are unplanned. Before cloud computing, you would have to distribute and collect various tapes and drives and then transfer the data to a central location. Now, you can just click a few buttons and have it done for you.
3. COST SAVINGS
You no longer need to buy a ton of external hard drives to keep your critical information. Companies can save up to 43% annually by migrating virtualized operating system instances in the cloud. Besides that, the cloud gives you access to professional staff, advanced security systems, and innovative hardware and software, which adds up to the projected savings.
Cloud service providers that use a pay-as-you-go model are especially useful since you will never have to spend money on services you are not using.
Compare this to a monthly subscription service where you must pay to apply for the entire month regardless of how often you use it. If you use a monthly subscription service for only two weeks, you will get half of your money's worth.
4. CONSISTENT UPDATES
The software is continuously being improved to increase security, efficiency, speed, capability, and reliability. On the other hand, updated hardware would require you purchasing a new device to enjoy the recent improvements. Software updates are consistent and rarely need any extra costs.
5. BUSINESS CONTINUITY
Ensuring business operability in case of a disaster is a significant challenge for most organizations. However, when a single minute of downtime can cost you more than implementing a backup and disaster recovery solution, business continuity management becomes a priority.
The cloud offers disaster recovery and business continuity solutions. You can rely on it to keep your data and applications active even if a disaster physically strikes your business. With a solid business continuity plan and right cloud solutions, you can minimize the effects of potential disruptions.
6. IMPROVED COLLABORATION
People can work together more efficiently and efficiently than ever before. Who needs to book a conference room or take an international flight when large groups of people from all over the world can merely meet over a Skype call? Nobody needs to print out copies of the latest report since they can all access it from the cloud.
You might work for a large international company with locations across the world. Whether your offices are in India, China, Australia, Ireland, Brazil, or America, every employee has the same access to relevant information via cloud technology. Plus, you can use cloud solutions by merely opening your phone. How convenient is that?
Cloud collaboration tools offer important advantages to employees. They can make use of file versioning or real-time editing any time. They can access data, applications, and services remotely from any device. All that boosts their productivity and, eventually, the company's profits.
7. INCREASED CAPACITY
You no longer need to guess if you will have enough ability to build or destroy an application. Clouds can adjust upwards and downwards depending on what your business needs. The flexibility ensures that you will always be able to utilize cloud services regardless of what your business is doing.
8. PERFORMANCE AND SPEED
The cloud commoditizes enterprise-grade technology, making it available to smaller companies as well. This form of utility computing makes emerging technologies available to businesses at an affordable price point.
You can access high-performance hardware and software to improve your operations. The OpEx-based delivery model makes cloud resources accessible to businesses of any sizes. You just need to pick the solution that meets your needs best.
9. DATA SECURITY
Keep your data secure and make sure that it does not fall into the wrong hands.
Cloud backups are an ideal solution to ensure business continuity and always-on availability of your files. All clouds offer some degree of encryption, deterrent, and compliance, but private clouds remain the most secure from outsiders. Even so, you must beware of internal attacks.